This game originates from the desire to tribute to the 80's games I grew up with, such as Pac-Man or Lady Bug.
If Pac-Man is probably one of the most known classic in the history of video game, I've realized it was not the same with Lady Bug.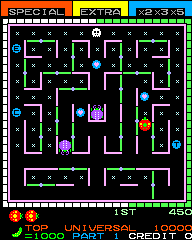 I've discovered Lady Bug when I was quite young, on the Colecovision console, with other masterpieces like Donkey Kong or Zaxxon (non exhaustive list !).

CBS Colecovision (1982) > Lady Bug - Vidéo Dailymotion (thanks to Le Mag de MO5.COM – Retrogaming et culture numérique)

I really enjoy the short music playing at start, and the time pressure feeling given by the square blocks surrounding the game area. And the timer sound !

If you want to know more about the Colecovision games : 20 Games That Defined the ColecoVision - YouTube
Regarding Pac-Man, it's definitely the game which gave me the virus of game design. If you think Pac-Man design is simplistic, I highly recommend this article : Gamasutra - The Pac-Man Dossier . A must-read !
Get Story of a tiny earth, the symbolic ages